The first 90 minutes of testing are over and Mercedes' Valtteri Bottas was the fastest driver on the track. Ferrari's Sebastian Vettel has tested the new "Shield" protection device on its visibility and more. (Picture source: kurier.at)
Valtteri Bottas secured the best time (1:29:106) in the first free practice session for the British Grand Prix at Silverstone with a new track record since the circuit's new configuration since 2010.
His teammate Lewis Hamilton finished (very close) second ahead of Red Bull Racing's Max Verstappen and Daniel Ricciardo. The Scuderia Ferrari finished behind those teams with Kimi Räikkönen on P5 and championship leader Sebastian Vettel on P6. The latter went very wide at Becketts and flat-spotted his set of super softs.
Felipe Massa (Williams Martini Racing) lost a few parts of his bodywork as he went wide in turn 9, but finishes on P9 at the end of this session.
The team from Grove also changed the floor on Lance Stroll's car, who finishes on P15. The Canadian had to make an additional stop in the pits due to a flying part under his left arm.
After a great result in Austria, Romain Grosjean had a very rough first session at Silverstone today. Mostly, the French complained about "power problems" in his Haas. Finally, he finished the session on P14.
Both McLaren Honda drivers finished in the TOP 10 and Daniil Kvyat, who finished on the seventh position reported problems at the end of the session and has been told to drive slowly back to his garage.
Vettel first driver to test the "Shield"
This system is a further developed version of the protective shield, which Red Bull Racing tested several times during the last year and is an alternative to the "Halo" system.
Red Bull's "Shield"
The "Halo" system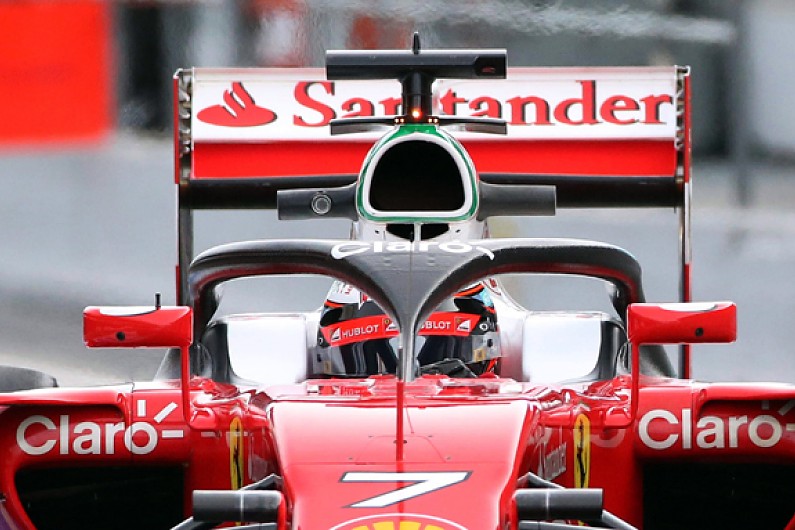 The current "Shield" system tested today:

This additional, new device is made of polycarbonate and is meant to protect the head of the driver from flying parts and still has to guarantee an unclouded view. The FIA itself has been developing the geometry of the shield and is working with several teams to optimize the design. Plenty of tests have been made and now it was time to test it in real conditions.
"Shield" is able to protect the driver against small, fast-moving parts
"Halo" can redirect an overhead tire for example
The FIA surely will be working on a solution, which includes as many safety aspects as possible in order to cover all bad scenarios. A decision is aspected in about three weeks as "the FIA has planned to have a solution by the end of this month."
According to "auto, motor und sport", Vettel was not happy with the visibility of the "Shield" and complained about a "blurry vision". Especially in terms of long-distance view. Ferrari stated that a lot of improvement work needs to be done.
Sebastian Vettel's statement about the "Shield" on Sky Sports

"Sebastian, can you tell us about the pros and cons of the "Shield"?"
"I don't think that I need to talk about the pros. Obviously, I know what it is for. Cons, obviously I tried this morning, I got a bit dizzy, forward vision is not very good. I think it's because of the curvature. You get quite a bit of distortion, plus you get a bit of down wash on the straights pushing your helmet forward. Yeah, we had a run plan with it, but I didn't like it so we took it off."
"What about getting out of the car? It looks a bit tricky."
"For sure it doesn't help. I think it's more of getting it, getting out… obviously getting in doesn't matter, but getting in it's probably about getting used to it. So that's not the main thing I think."
Free practice session 1 results:
| Position | Driver | Team | Time |
| --- | --- | --- | --- |
| 1 | Valtteri Bottas | Mercedes | 1:29:106 |
| 2 | Lewis Hamilton | Mercedes | + 0.078 |
| 3 | Max Verstappen | Red Bull Racing | + 0.498 |
| 4 | Daniel Ricciardo | Red Bull Racing | + 0.836 |
| 5 | Kimi Räikkönen | Red Bull Racing | + 1.031 |
| 6 | Sebastian Vettel | Scuderia Ferrari | + 1.411 |
| 7 | Daniil Kvyat | Scuderia Toro Rosso | + 1.789 |
| 8 | Fernando Alonso | McLaren Honda | + 1.887 |
| 9 | Felipe Massa | Williams Martini Racing | + 1.893 |
| 10 | Stoffel Vandoorne | McLaren Honda | + 1.935 |
| 11 | Carlos Sainz | Scuderia Toro Rosso | + 2.094 |
| 12 | Esteban Ocon | Sahara Force India | + 2.104 |
| 13 | Sergio Perez | Sahara Force India | + 2.191 |
| 14 | Romain Grosjean | Haas F1 Team | + 2.504 |
| 15 | Lance Stroll | Williams Martini Racing | + 2.578 |
| 16 | Antonio Giovinazzi | Haas F1 Team | + 2.925 |
| 17 | Nico Hülkenberg | Renault | + 3.,065 |
| 18 | Jolyon Palmer | Renault | + 3.344 |
| 19 | Pascal Wehrlein | Sauber F1 Team | + 3.923 |
| 20 | Marcus Ericsson | Sauber F1 Team | + 4.293 |